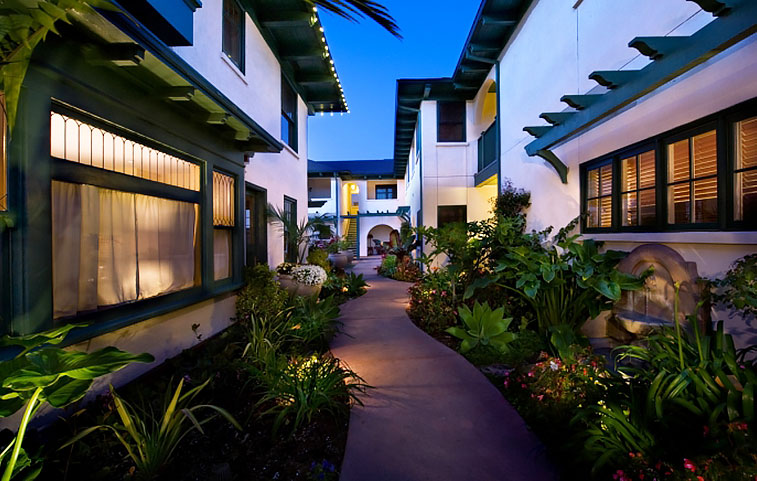 Frequently Asked Questions
Q: How far away is the beach?
A: Coronado's beautiful wide beach is a short two block walk away.
Q: What time is check-in?
A: Check-in is between 3:00 and 8:30 PM. Check-in after 8:30 PM needs to be arranged ahead of time with the Innkeeper.
Q: What time is check-out?
A: Check-out is at 11:00 AM.
Q: Which rooms can accommodate children?
A: Our Garden Spa Suites with sofabeds are the best family suites. Call regarding children in other suites.
Q: Do you have any rooms that can hold four people?
A: We have two Garden Spa suites with sofabeds that can accommodate four people. All other rooms have a maximum occupancy of two people, although some suites can accommodate a crib.
Q: How can I get the best rate?
A: We guarantee that you will always receive the best rate by calling us directly.
Q: Do you offer discounts for a group?
A: Yes, if you are reserving at least six rooms or suites, for at least two nights, we will provide a custom proposal for your group.
Q: Can we get married at your property?
A: We can recommend other venues as we do not host ceremonies on our property.
Q: Can I have a wedding reception at the 1906 Lodge?
A: Yes, we are able to host small wedding receptions at The 1906 Lodge, subject to availability. When you rent the entire Lodge, there are many more choices for location and time of your event. Call for details or fill out our event inquiry form.
Q: Do you have a pool or jacuzzi?
A: No, we do not have a pool. Coronado's Recreation Center has a wonderful pool complex just a few blocks away. Ten rooms and suites have spa tubs.
Q: Do you have a fitness center?
A: Our guests have access to the Gym in Coronado, across the street from 1906 Lodge, at a discounted fee of $10 per person for a one-time use pass.
Q: How far away is the San Diego International Airport?
A: The airport is approximately seven miles away, and is about a fifteen minute drive.
Q: Do you have parking?
A: Yes, we have free parking on-site. When you arrive, park in the circular driveway to check-in. Your room key will provide access to the underground parking.
Q: Do you allow pets?
A: We do not allow personal pets. Service animals are allowed in all guest areas. When booking your reservation please inform the Innkeeper that a service dog will be accompanying you. A service animal may only be classified as a dog which was trained to perform a task for a person with a disability. Under the American's with Disabilities Act, service dogs that only provide emotional support or comfort support are not qualified. Service animals may not be left in the rooms by themselves.
Q: Do you allow smoking?
A: No, we are a smoke free property. Smoking is not permitted anywhere on our property, inside or out, including e-cigarettes. If there is evidence that a guest has smoked in their room, there is a $250 cleaning fee. Additionally, Coronado Island became a smoke free community as of January 2014.