Blog
25 May, 2013
Red, White, and Blueberry!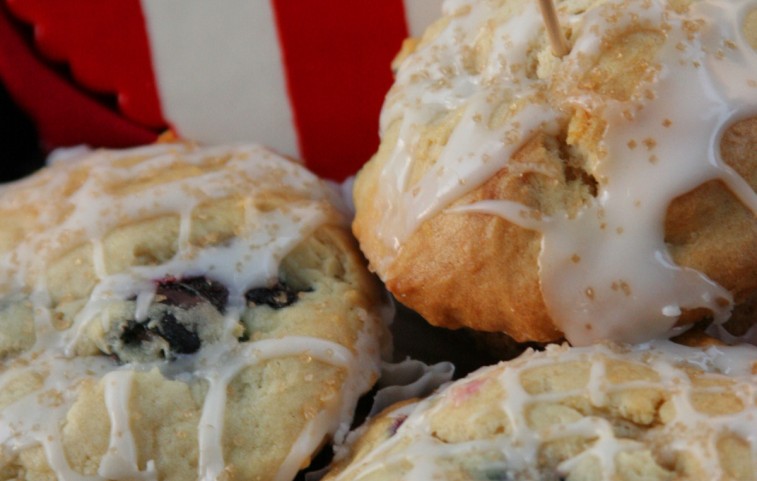 Of the many things we Innkeepers get to spoil our guests with, some of our favorites come from the combination of butter, sugar, and flour...yes, we are talking about muffins, scones, coffee cakes and more! Each morning our guests awaken to sweet aromas drifting from the kitchen of the 1906 Lodge, where the Innkeepers are preparing something delicious! And yes, these are the same Innkeepers that man the front desk, take your reservations, check you in, and turn down your bed at night. Susan, Denese, Lori, and Alyssa take pride in preparing breakfast each morning where creativity is encouraged, letting guests experience each Innkeeper's personal touch! You just might be lucky enough to try Denese's Raspberry Danish, Lori's Banana Bread, Alyssa's Lemon Bars, or Susan's Scones, to name a few. And since we are talking about baking, we thought we would share one of our irresistible recipes with you, 1906 Lodge Blueberry Muffins with Lemon Glaze. With Summer just around the corner, this recipe makes for a perfect Fourth of July breakfast and will make your house smell amazing! Share your muffin photos on our
Facebook
page and tell us how they turned out! Find the recipe at the bottom of this post!
For more delicious 1906 Lodge treats, book your stay now and come experience Coronado's #1 Rated Hotel! Call us today at (619)437-1900 or visit our website to find out about our Specials and Last Minute Deals for Summer!
1906 Lodge Blueberry Muffins with Lemon Glaze
Sift together in a large bowl: 1 ½ C all purpose flour â..." C sugar 1 ½ tsp baking soda ¼ tsp salt Set aside Melt 1 stick (½ C) butter and let cool a bit Mix with... 1 C sour cream 1 egg 1 tsp vanilla Stir the butter into the dry ingredients until just moistened. Batter will be thick and lumpy. Add in 1 C fresh or fresh-frozen blueberries and mix gently. Bake at 375 degrees for 20 minutes. Makes 12 muffins. Lemon Glaze ¾ - 1 C powdered sugar 3 - 4 tsp lemon juice Combine ingredients with wire whisk until you reach desired consistency. Drizzle on muffins after they have cooled and serve immediately.