Blog
22 Oct, 2014
Fall Favorite Recipe...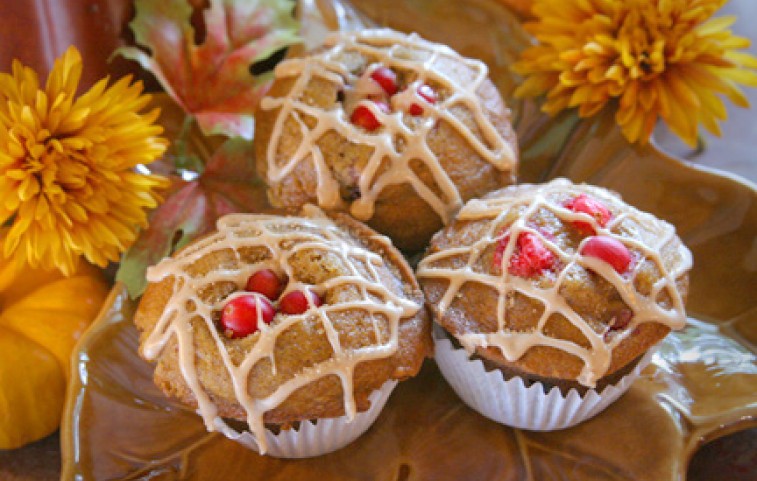 Glazed Pumpkin Cranberry Muffins
Try one of our guests favorite seasonal breakfast items! These scrumptious muffins will melt in your mouth and go great with a cup of hot cider, coffee, or tea! We love using fresh frozen cranberries for that little bit of tartness to go along with the sweet pumpkin taste...ENJOY!
Ingredients
3 cups sugar

1 cup oil

4 eggs

2 cups canned pumpkin

3 1/2 cups flour

1 tsp. baking powder

2 tsp. baking soda

2 tsp. salt

3 1/2 tsp. pumpkin pie spice

2/3 cup water

1 cup whole cranberries (fresh or frozen)
Directions
Mix oil and sugar.

Add eggs and pumpkin.

Sift all dry ingredients and add alternately with water to pumpkin, mixing well.

Stir in cranberries.

Pour into greased muffin tins and bake at 350 degrees for 30 minutes.
Cinnamon Vanilla Glaze
1 2/3 Cup Powdered Sugar

½ tsp. cinnamon

½ tsp. vanilla extract

1 Tbs. Milk
Whisk all ingredients together until well combined. If necessary, add more milk or powdered sugar to acheive the desired consistency. Transfer into a plastic bag and make a small cut on one of the corners of the bag. Squeeze gently to apply.