Blog
25 Jul, 2012
Coronado is made for walking!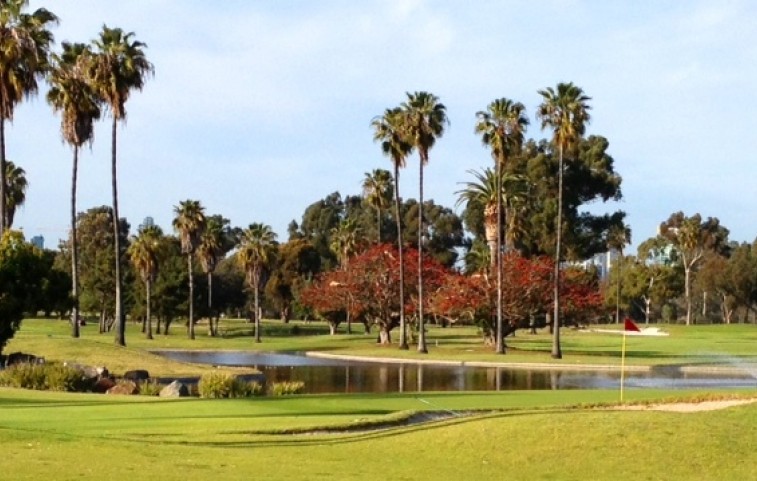 Scenic Coronado Walking Tour
A great way to see the sights of Coronado is with some comfortable walking shoes on a summer day. Spend an hour or the whole day on a Coronado walking tour from one end of the island to the other.
Coronado Golf Course "Best Place to Play"
One of the favorite Coronado walks is from the 1906 Lodge to the Ferry Landing, walking along San Diego Bay. From the Lodge, you walk a couple of blocks down to the yacht club and then turn left. Beautiful Glorietta Boulevard winds along the 18 hole Coronado Municipal Golf Course, selected by Golf Digest as a "Best Places to Play."
The Coronado Bridge Up Close
Just past the golf course, you have the rare sight of the underside of the Coronado Bridge. Peering through this unique view, you can see Coronado's Naval Amphibious Base on the right (where the Navy SEALs train) as well as the main San Diego Naval Station on the left, home port to the majority of the west coast ships.
Tidelands Park has spectacular views
North of the bridge is Tidelands Park. The wide boardwalk is great for walking as well as biking or rollerblading. The 22 acre park has spectacular views of the San Diego waterfront, a skate park, wonderful playground, and lots of space for a picnic. One of the whimsical public art pieces facing the water is "My Bike", a shiny bike and rider which turns in the wind.
Coronado is the centerpiece of the "Big Bay"
As you wind around towards the north end of the island, you'll see the Coronado Ferry bringing tourists to and from downtown San Diego. To your left is the North Island Naval Air Station, the birthplace of U.S. Naval Aviation in 1911.
Dine, Shop, Play, Enjoy - the Coronado Ferry Landing
If you have made it this far, reward yourself with a stop at one of the wonderful restaurants at the Ferry Landing. There is also shopping and concerts by the bay on Sundays. For your return trip, you can retrace your steps or head directly down Orange Avenue, the mainstreet of Coronado. You'll pass shops, restaurants, the library, and Spreckels Park. Or wander through the lovely neighborhoods of our quaint village.
Enjoy afternoon refreshments at 5:00 each day at the Lodge
Make it back to the Lodge by 5PM for afternoon refreshments. Wine, lemonade, iced tea, crackers, cheese, and snacks await you. You have the opportunity to chat with other guests, plan your evening meal, or just sit on our front veranda and watch the world go by. We hope to see you soon at the top ranked hotel in Coronado, the 1906 Lodge!