Blog
24 Mar, 2014
Adella Chili Bake Recipe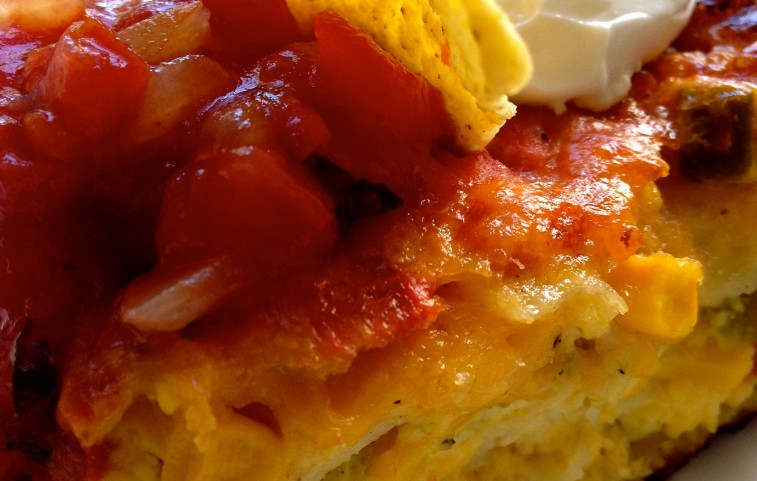 By popular demand, we are sharing the recipe for one of our guest's favorite breakfast entrees! This dish has a fun and zesty Mexican flare that we have found to be a sure crowd-pleaser...Enjoy!
Adella Chili Bake
Serves 12-16 Preheat oven to 350 degrees Prepare a 9x13 inch baking dish with non-stick cooking spray ~ Egg Custard Mix together the following and set aside: 12 eggs 2 cups milk ½ tsp. salt ½ tsp. pepper ½ tsp. garlic powder 1 tsp. onion flakes 1 tsp. cumin ~ Assemble remaining ingredients: 10 small corn tortillas, cut into strips 1 large can of mild chilies, drained 1 15 oz. can chopped tomatoes, drained 1 15 oz. can corn, drained 4 cups grated cheddar cheese Black olives (optional) ~
Spread half of the chilies evenly over the bottom of the baking dish. Sprinkle half of the sliced tortillas across the top of the chili layer. Cover with half of the corn. Layer with 2 cups of grated cheddar cheese. Repeat layers exactly as before with: remaining chilies, tortilla strips, corn, 2 cups cheese.
Pour the egg custard gently over the entire casserole. Top with drained chopped tomatoes. Sprinkle with halved blacked olives (optional).
Cover with aluminum foil and set the casserole on a cookie sheet to catch any overflow. Bake at 350 degrees 40 minutes, rotating once halfway through baking. Continue baking until set in the center.
Let cool before cutting. Serve with a dollop of salsa and/or sour cream and a tortilla chip for garnish.
ENJOY!